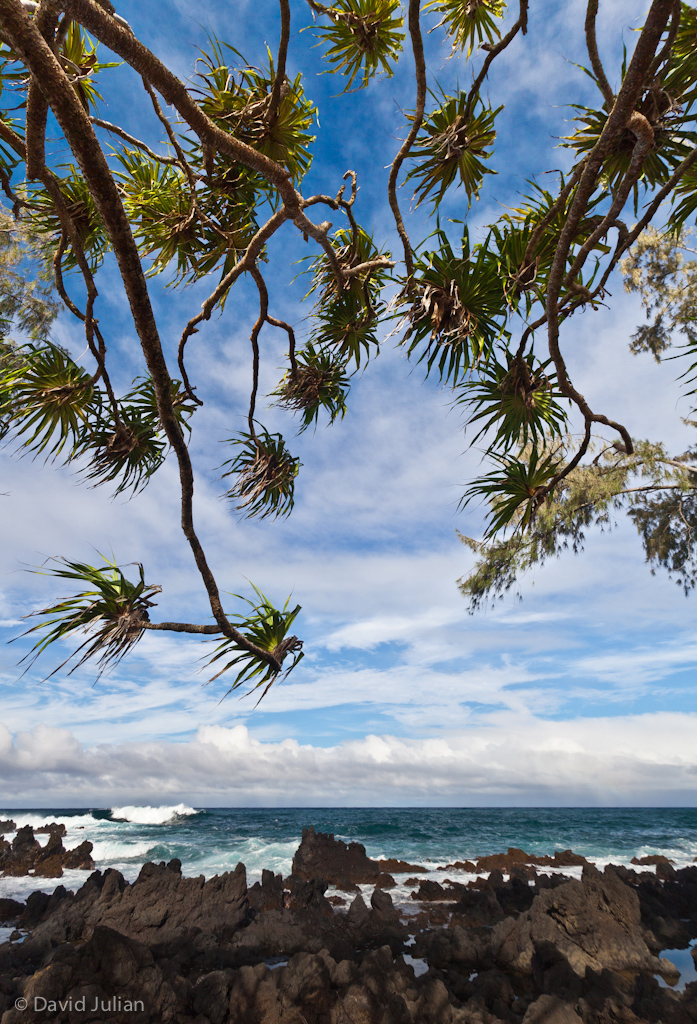 "I have a confession. I've been addicted to very wide angle lenses for over 30 years, and I have no intention of quitting."
There is nothing quite like the inclusive sweep of a photograph made with a wide angle lens. I find it intriguing how wides see the world so much differently than my own eyes. The characteristic distortion of wides, when used creatively can create inviting and dramatic images.
I started my own 'habit' in 1974 with a cheap wide angle adapter and soon got into the 'harder stuff' with a manual Tamron 17 lens dedicated to one of my first Nikons. I used that thing until the front element literally dropped out during a tree climb in Costa Rica. I felt the withdrawal approach when I was really yearning for it on the remaining week of that expedition.
On a recent trip to Maui, we drove the Hana Highway and lunched at a breezy point of land edged by wizened trees, volcanic shoals and endless crashing surf. I imagined the trees were literally reaching into the sky, and I wanted to capture that vision. Fitting my Canon 17-40 f4 L onto my 5D mkll, I crouched down to include the nearby rocks and pointed up towards the trees overhead. I added a polarizing filter to deepen the contrast in the sky. Minor adjustments in Lightroom balanced the exposure from top to bottom.
Another example of the advantage of super-wides is this image of a sunset along the Oregon Coast. Here, my 17-40mm lens set at 17mm has created drama of a sweeping expanse of beach from a low tripod position.
It's fun to get close to the nearest subject with a wide angle lens, as the distortion exaggerates perspective and adds even more drama to the image. It also helps also that wide angle lenses allow for higher depth-of-field (DOF) at wider apertures than standard lenses will, so you can more easily hand-hold your camera steady at higher shutter speeds for action and high DOF shots.
Another great advantage of wides is the ability to shoot in the cramped spaces of interiors. Here, I've used my 17mm to capture the colorful owner of Whidbey Island's Compass Rose Inn.  As distortion is inherent in wides, I keep human subjects towards the middle or mid-third of the frame so they don't appear unnaturally proportioned. Of course, this distortion can be an advantage when making photographs intended for humor.
The subject below is Marshall Pt. Lighthouse where I take my summer workshop students in Maine. This photo was made at f16 and 1/60th of a second while lying flat on the walkway. I focused on the lighthouse tower, and the extremely deep subject of the walkway is in sharp focus. With so much light entering the lens, it is crucial to use a lens hood made for your lens. Lens hoods also protect your large front glass element from scratches and those pesky unwanted fingerprints.
Join me in one of my hands-on workshops and learn professional techniques for creating dramatic images no matter what the subject and weather.
So, on your next outing, grab a wide and get creative… and just try not to get addicted.  :-p
I'd love to share my knowledge with you.
Just fill in the blanks to subscribe for more travel stories and techniques in Photography, Lightroom and Photoshop.
I occasionally send out "The Viewfinder" e-newsletter, and provide free presets and workshop discounts.
I never over-post, share your info, and you can opt out at any time.