One of the things that makes my workshops and presentations so rewarding are those I meet and share experiences with. In the workshops, we spend lots of time working together and individually, and I feel lucky to meet such curious and creative people from all over the globe.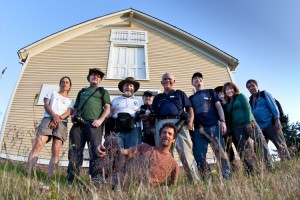 Here are some unsolicited testimonials by my mentoring and workshop students:
(Names are abbreviated to offer anonymity)  
"Thank you for all you provided in the Palouse. Well researched and fun, but we have too many photos to edit! :-)" — Dana & Jens P, OR
"Hi Dave, your Art of Travel and Street workshop was the kickstart I needed to gain confidence shooting on the street. I never knew there were methods for this style! I'm now out weekly to build a portfolio of my work. Loved the presentation of fantastic shooters too." — Dan C, PA
"Dave, you have been an outstanding and inspirational mentor. I gained a universe of knowledge from this course." — Carla K, WA
"Amazing workshop Dave. I'd taken other workshops but we saw so much more this time. The farm visit alone was worth the trip!" — Deb and Carl D, MT
"I am so lucky to have found you as a mentor guide. You have given me so much renewal and courage as well as new technical chops. I've approved on all levels in our first pack of sessions so I'm saving up for a second pack to seek guidance on my new series and book."  Dustin G, MT
" Hola DJ! We're finally back from Cuba and are elated over the entire experience. Your leadership, knowledge, guidance and amazing friends gave us endless opportunities and thousands of new images to delve into. I've been all over the globe and this was one of the most fruitful tours I've done. I'd return with you when you go East to Oriente. Let me know!" Charles K, MA
"I can't speak highly enough for your patience and the insights you gave during our mentoring sessions. My work has improved and my husband loves my newfound creative energy." – Daniella C, OR
"I learned a ton during our independent study! I have begun a photo project that reflects my goals and I am proud to share it."– Ted M, OH
"Thank you for teaching me how to find for the creative voice I have always owned, and for being a source of inspiration." Purnima B, CA
"Dave, thank YOU for being so positive and keeping me creatively motivated. Your guidance these past few quarters has shaped me into a better photographer and a better person." – Jake W, WA
"Our 1 on 1 sessions lit me up! I am renewed with ideas and creativity" – Rebecca C., MA
"David was an inspiration and a great teacher. He awakens the creative self that often can get neglected by duty and deadlines." – Char E, WA
"David's deep knowledge of Lightroom and computer technology is well-matched with his powers of communication and his patience.  Lightroom is not so much complex as it is intricate.  David can help you find your way around." – Paul G., WA
" David is a great speaker, very good at explaining technology in understanding terms. Good photography coaching and encouraging in the field. Thanks Dave!  – Pattie S., WA
"Just wanted to say thank you for the great [Creative Photography] workshop yesterday!  I learned a lot, not only more about the technical aspects of my camera, but also about anticipation, perspective and seeking an image with patience.  I also was glad to watch and learn more about the Lightroom workflow. It was a great group and I learned from the participants as well."  – Christie A., WA
"Dave's an awesome teacher and made things easy to understand.  I have a great respect for his knowledge and his ability to communicate it." – Jen K, WA
"Your wonderful class ("Creativity and Invention in Photoshop") was just exactly what I needed because it builds a bridge between the digital and the personal, which can be daunting for the right-brain creative person. Your emphasis on opening up creatively, on being in touch with our personal response to visual (and other sensory) things set the perfect tone for the workshop. I am especially impressed with how accessible you are in general and how willing you are to share what other artists might consider trade secrets." – Allegra B, WA
"I've been using Photoshop for more than ten years, and David really helped me unlock some powerful tools that I had not yet discovered. Very informative and well presented!  I couldn't wait to get home and start using what I learned. I look forward to his next presentation."  – Adrian B, WA
"David Julian is one of the most creative and inspiring presenters. I learn so much from him." – Bernita M, WA
"I've taken workshops from several digital masters, but this workshop was the most creative. – Anna C, CO
"I also appreciated the time he spent coaching and working with each of us at our level."  – Dave K, CA
"Dave is a gifted teacher and very inspiring…offering a good balance of technical and creative knowledge." – Mark M, HI
"Your work is an inspiration… what a great creative kickoff for 2010" – Stan G, WA
"Phenomenal and incredibly inspiring!" – Joelle N, LA
"Informative, rightly targeted, well paced, entertaining. I learned a lot!" – L. Kenney, OR
"Good inspirational jump start for 2011! The workshop was a great vehicle for gleaning some of David's vast knowledge and experience. Really enjoyed it." – Dana G, WA
"David, you really have inspired me to return to my creative work. I find inspiration in your work, in how you work, in who you are, and even in the things you collect." – Sue R, WA
"Thanks for your encouragement and generosity! My week was totally inspirational" – Paola V, Spain
"I was amazed at how much I learned in so short a time. I know I will return for more Dave!
"David is a great teacher. He's patient and works with the needs of each individual student while inspiring the whole class to go beyond their expectations." – Geoff L, UK
"The Oaxaca workshop was marvelous. Aside from photography, David is also an outstanding teacher of photoshop techniques, but more important, it's the creative vision that is passed on to the students. He really bonded together a group of strangers into a synergistic and creative body." – Ray D., GA
"David, thank you for a fantastic workshop and all the inspiration." –Bobbi S, FL
"David is an inspiring teacher and motiviating facilitator. He has an easygoing style and lots of creative ideas and real-world suggestions that he shares willingly and a great sense of humor…"
"I enjoyed the class and the whole workshop experience very, very much…I was quite nervous about taking the class because my Photoshop skills were so sketchy and secondly because it was the first time in a while that I was attempting to explore my personal work…but I am jazzed! Thank YOU!" –Stephanie R, PA
"It was a very inspirational and productive workshop! I feel skilled, confident and alive!"
"…a fabulous workshop! …what made it great was sharing information, learning new things, David's easygoing style, everyone there, seeing each other's work and having a chance to try out new directions." – Mark T., HI
"It was such a treat to spend the weekend being with everyone and in the world of David Julian. I had a blast." – Karen K, NM
"Awesome! So creative, with a complete command of Photoshop technology, but used totally intuitively. It's just how I dreamed that Photoshop could (and even should) be used. Lovely presentation style, too, very humble not geeky and answered all questions patiently." – A. Berrian, WA
"It was such a treat to spend the weekend being with everyone and in the world of David Julian. I had a blast." – Kerry D, MT
"…I came away very inspired and feeling very supported and capable in my path forward."
"Dave is the first teacher I've met who could effectively teach the process of creativity while also demonstrating artistic techniques and creative directions for each student– and make it so fun." – Sandy F, CA
"Before this workshop I was dreading the transition to digital, but now I'm excited! Now I can emerge from my 37 years in the darkroom and explore a new well of ideas and techniques."
"David was helpful and patient, with my elementary as well as tricky questions. I learned and benefitted a huge amount from his eye, his knowledge of what was necessary to improve an image, and his encouraging me towards simplicity." – Karen A, CA
"I thought I'd never learn how to be creative in Photoshop– until this. Dave listened and explained things with clever analogies and patience until I really 'got it'. I hope to work with him again!" – Carl W, AZ
"David is passionate, enthusiastic, and supportive. He explained things thoroughly and inspired us to stretch, each in his or her own direction." – Jan H, NM
"I found David to be an excellent teacher, always making time for one-on-one with each of us. There was no question he couldn't answer. He had a lot of patience and would always give an honest and motivating opinion. It was incredibly inspirational!
"David was a very thorough instructor, well-organized, possessed of teaching talent, patient and anticipated when it was necessary to clarify a procedure or lesson. His calm personality enhanced the learning for me." – Rhonni O, DEN
"David was the best! We were lucky to have him. The entire workshop was organized and well-executed. His communication with us was excellent."
"…It was a super class and I will recommend it highly! You taught me a lot technically, but you especially fostered my own personal creative process and I am sure to be under the influence of Mr. Dave for years to come. Thank you! " – Emily C, CAN
"David was a great teacher, providing essential inspiration and workflows that emulate alternate processes. …I highly recommend taking one of his workshops…". – Dave D, OR
"Thank you, David, for an inspiring workshop. I've been telling my photo friends that it was the best workshop I've been to (and I've been to a lot) in terms of it's emphasis on creativity and how much I learned and can actually use." – Jennifer R., CAN
"David is wonderful! I've taken other classes in Photoshop, but this one helped me get Photoshop to fit my mode of thinking. He got me to control the tools, not have the tools control ME. Woo-hoo!"
"David was terrific and I would recommend this workshop to anyone making the transition ( from darkroom ) to digital expression. He calls it "the DimRoom"! But we all had our brains lit up! – Ben H, UT
"…thanks to you for such a wonderful workshop! I had such an inspiring week and I feel like I really learned a lot in the class. I can't wait to go again next year!"
"…David is awesome and so knowledgable…"
"…the emphasis on creativity along with very pertinent technical info was really great!"
"Insightful and inspiring! I learned a lot from beginning to end" – Koby P, UK
"He had an amazing array of great ideas and was patient and helpful to me… I'd been doing everything the hard way until now… Every day was exciting and fun…" – Susan C, ME
"I feel re-energized!! I hope to take more workshops with you" – Laurie Z, FL
"Thanks for taking my skills and thinking to a higher level. I'll be back for more."
"… the most patient instructor I have ever had…"
"David's class was presented in a totally different way than any of my previous classes. It was the best of both worlds– I learned some new techniques and was also given the inspiration to take my work to a new and different level."
"I liked the variety… David did informative, useful critiques yet was always supportive"
"…forcing us to dig deeper, to work outside of our existing preconceptions was a challenge and a motivator. It was truly a self-discovery."
"I have taken a number of workshops over the past seven years. David's class stands out as one the best. David is not only technically skilled and makes the "how to" a major part of his program, but he also delves into the challenges of being creative and how to stay fresh with new ideas."
"The growth that took place within me rekindled my passion for my art"
"David's teaching was excellent. he instructed me with regard to my specific needs. Awesome!"
"I came away with excitement, energized and eager to try new ways of working with my new skills!"
"I really enjoyed the course. David is an excellent teacher, well informed, an accomplished artist in his own right, and very, very patient…The course with David did nothing less than totally break me through with Photoshop and a whole new kind of art expression."
"He had a very patient and personal way of teaching and helped me produce work I am proud of despite my lack of Photoshock skills." – Frances O., IR
My past instructors were very commercially-oriented and taught commonly-seen techniques that did not demonstrate much originality or seem artistically useful to me… David is easy-going and revealed his methods of personal and creative thinking and then demonstrated many techniques that made my art more… sophisticated in my opinion… He was very encouraging yet realistic and I hope to work with him again."
"I thought your workshop was fabulous! Absolutely one of my favorites. It was a pleasure meeting you, and getting to be a part of your influence and guidance as a teacher.." Leslie A., course assistant at Santa Fe Workshops.
"I learned more from you a day than I did from a two-day workshop in NYC."  Seth G, WA
– more feedback from my presentation can be found HERE 
(comments without references were submitted anonymously)
I'd love to share my knowledge with you.
Just fill in the blanks to subscribe for more travel stories and techniques in Photography, Lightroom and Photoshop.
I occasionally send out "The Viewfinder" e-newsletter, and provide free presets and workshop discounts.
I never over-post, share your info, and you can opt out at any time.