When making photographs, I love to use strong design to compose the graphic elements within the viewfinder. My experience as a graphic designer and art director has influenced how I see the world, and how I compose the rectangle of every image. One particularly memorable weekend taught me a lot about designing within the frame.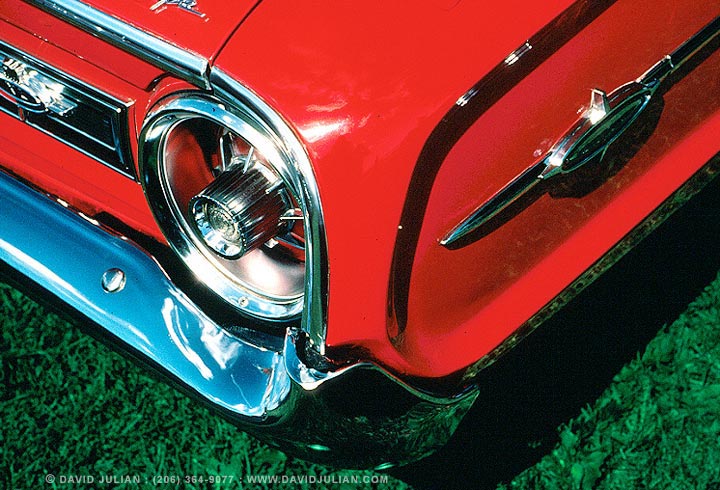 Back in the mid-80's one of my co-workers invited me to join him for a road trip to the Hershey Auto Show in (big surprise) Hershey, PA.  Bob Sekelsky was (and still is) an artist and master auto restoration craftsman, and had been to many national auto shows. He promised me that Hershey was one of the best in the country. I was psyched, thinking of little else besides camping, cars and Kodachromes!
As my interest in photography was blossoming, I brought two bricks of Kodachrome 64 and Fujichrome 100 with me, and my two trusty Nikon FE SLRs. My lens kit consisted of 24, 50 and 135mm Nikkors. I sweet-talked the gear boys at Time Magazine into loaning me a sweet 16mm fisheye Nikkor and a Widelux slit-scan panoramic camera to top off my arsenal of manual-focus prime optics. It proved to be a good idea.
[slideshow id="4″ width="500″ height="400″]
We drove to Hershey after work, arrived in the dark and found a campsite on a hill a few hundred yards from the fairgrounds. Upon waking the next morning and surveying the fairgrounds below, I was stuck by a scenario that shifted my energy into high gear. The massive show and swap meet below took over much of the old Hershey Airport, and the hundreds of lovingly-polished vintage autos stretched on as far as we could see. I was in heaven seeing such beautiful designs of chrome, steel and glass.
There were also hundreds of enthusiasts already ogling every car, so making pictures of isolated cars would be close to impossible. Disappointed but determined, I got up close and chose to focus on the details that conveyed color, craftsmanship and functional design. Every car presented a different challenge and opportunity to imaginatively frame the elements of design. I crouched, squatted, peered, and leaned in around my subjects, falling in love with translucent taillights, sexy chrome accents and  chrome-plated hood ornament goddesses. I swooned over turquoise and tan BelAirs, black and magenta Crown Victorias, gleaming gold Mercedes Gullwings and cool gray Cords.
Those were my pre-digital days, where I could only hope that my exposures were correct. To make it even more precarious, the sun blasted back into my lenses from every bit of car chrome. To the amusement of onlookers, I often hovered over a composition, waiting for the chrome-reflected clouds in my viewfinder to eclipse the sun just long enough to crank off a few cloud-softened frames. Judiciously using my polarizing filters and a sniper's steady stance, I captured hundreds of detailed portraits to preserve the subject of my obsession. I also returned early the following morning to capture more cars with fewer onlookers, and I also photographed several colorful swap meet vendors from towns nearby and afar. Their collections were a trailer-towed warehouse of the rusted, rescued, restored and resold parts of every imaginable auto in history.
By the end of our three days, I had shot about twenty rolls of film and had filled two milk crates of irresistible vintage chrome hood ornaments. What I took away from those excursions was not only photographs, collectables and fond memories, but also an acute awareness of the excitement I engage when shooting subjects that hold my enthusiasm.
To keep that enthusiasm alive, I shoot auto shows whenever I can. In my photography workshops, we explore our enthusiasm for favorite subjects, the inner creative self as well as the gear and techniques uses to capture any subject with individualized vision. I love to see my workshop participants light up when we shoot on location. Can't wait for this spring and summer's workshops in Seattle, Maine and Colorado! Come join me, and you drive there, please be in a spotless 1955 Chevy BelAir.
I'd love to share my knowledge with you.
Just fill in the blanks to subscribe for more travel stories and techniques in Photography, Lightroom and Photoshop.
I occasionally send out "The Viewfinder" e-newsletter, and provide free presets and workshop discounts.
I never over-post, share your info, and you can opt out at any time.