In 2014 I decided to refresh my approach to photography.
I was heading to Cuba to collaborate on a historical photography project. I wanted a greater connection to subjects than I'd been having with my face obscured behind my big beloved Canon dSLR. I needed a camera that could also frame subjects if held high, held low or when shooting from the hip. I wanted a lighter and smaller system for greater agility and spontaneity. Image quality had to be excellent, with great low-light performance and intuitive tactile controls. After renting and testing three hot mirrorless cameras; Fujifilm's X-T1, Sony's A7 and Olympus' OM-D E-M10, I chose Fuji's X-T1. 

---
Beside the capabilities listed above, here are some of the factors that won me over:
>  The camera feels good in the hands, with all functions easily reached and logically placed.
>  Fuji's APS X-Trans sensor is amazing, rendering subtle highlights and rich shadows without flatness or clipping.
>  The Raws and fine JPGs look more like the aesthetic of film than other cameras I've tested. Love that.
>  The APS sensor size allows for smaller, lighter and less expensive lenses than with the Sony A series.
>  The X-T1 has intuitive manual control dials and programmable buttons for fast control in changing conditions.
>  Size vs. weight vs cost: The Fuji X-T1 combines these three variables without compromising image quality.
>  Fuji XF-series lenses are very well engineered and critically sharp. Even the 18-55 kit lens is impressive.
>  Several of Fuji's lenses feature DOF scales, which are helpful when manual focusing or choosing DOF.
>  With Fuji's fast primes using Nano coatings, ED glass and curved-blade apertures, the bokeh is just beautiful.
>  Fuji's menu settings are logical and easy to navigate. The engineers obviously worked with photographers.
>  Buttons are programmable, and a Quick menu accesses dozens of settings right from the viewfinder.
>  Fuji's JPGs are incredible in tonal range, taking advantage of highlight and shadow expansion settings
>  Fuji's in-camera film simulation settings render outstanding JPGs and RAW files with film settings applied.
>  8fps frame rate for RAW capability means never missing the moment.
>  Completely silent Electronic Shutter option for stealth event or photo-J shooting.
>  Excellent high ISO noise behavior and rendition across gradients.
>  Large bright EVF gives an exceptional shooting experience and shows actual Depth of Field without darkened finder.
>  Optical Image Stabilization (OIS) in most of Fuji's XF lenses is incredibly effective, allowing up to 5 stops of gain.
>  Manual photography was faster and easier to set in the Fuji compared to the other bodies tested.
>  The rugged tilting LCD is bright and flexible for high and low angle photography, which I do all the time.
>  The X-T1 and several of their lenses are sealed to withstand use in rain and dust. I live in Seattle. I travel. Nuff said.
>  Fuji's smartphone apps allow remote camera control as well as NFR WiFi uploads to phones for social media posts.
>  Fuji's periodic firmware updates are constantly improving AF speed and add in other useful features.
>  The Fuji community is as passionate as any other, so there are many websites and publications to learn from.
>  The images below were processed in Lightroom CC 2015. Arguably, there are better Fuji RAF processors out there, but I wanted to show my images processed in Lightroom to dispel the notion that Fuji RAWs cannot be processed satisfactorily in that app.
---
I did not purchase all of the gear above at once. I initially bought the Fuji X-T1 kit with the sharp 18-55 ƒ2.8-4 zoom. Then, I added the 10-24mm for wide angle work, and the 55-200mm telephoto for reach. The Fuji zooms are so sharp I never feel compromised. I now can carry my X-T1, four lenses, 4 batteries, a flash and water bottle in a cross-shoulder bag instead of in an unwieldy backpack. I added a B+W Polarizer and Harumi Nano-coated clear filter (for when working in lousy conditions like Burning Man. BM was absolutely one of the coolest shoots I've done, but the wind-driven alkaline talc-fine dust it is absolutely HELL on camera gear. I was nervous about un-bagging the X-T1 during the dust storms but with my 16mm WR f1.4 mounted, it held up beautifully. Even with the non-sealed 10-24 attached, it all survived needing just a good sensor cleaning. 
Another aspect of the Fuji X system  that I've been appreciating is the incredible tonal range and neutral color of RAWs made on the X-Trans sensor. The 17×22″ prints I've made on my Epson are sharp and clear of noise well into ISO 1600+. After that, the noise is soft and even like the grain of fine negative films I've always loved. The reds are particularly pleasing and never overly saturated like my DSLR. The camera tethers to Lightroom via a purchased plugin.
After several jobs and workshop travels with the X-T1, I've refined my settings and choice of optics. It's hard to sell a lens you just might need…for that certain shot… (you know what I mean!). I recently benched the 55-200 in favor of the really kickass 50-140 f2.8 WR and 1.4x extender. The 55-200 is still worth owning as a solid value if wide apertures aren't a priority. In the drool-over-glass department, I'll be testing a rented 100-400mm f4.5 (eq: ~150-600) in my sold-out Palouse workshop. I best not drop it. 
So what are some compromises of my moving to the Fuji X-system? Really very few.
– Full Frame fast primes are still hard to match for their slightly softer creamy bokeh. Cropping FF images allows larger files.
– Pro DSLR bodies are slightly faster focusing and often more accurate for erratically-moving subjects. Mirrorless systems are catching up on this front. Metering, AF and EVF technology is rapidly improving.
– The X-T1 is not yet a favorite of video pros. It's a sweet photographer's camera. (…rumor: the X-T2 will delight videographers!)
– The X-T1's frame rate/pano/bracket selector switch is easily knocked off setting. I rigged mine to resist such accidents but I'd like to see that improved on the X-T2. 
– The X-T1 needs a double-slot for SD cards. I believe we'll see that too on the X-T2.
– Some Fuji RAF files do not develop in Lightroom as well as I'd like, so I don't convert them to Adobe DNG on import. Most of my RAF files do fine in LR, but some I prefer to develop in Capture One. I am hoping this will improve soon. Fuji (hearts) LR!
– If you want to move into Fuji X, and have less to spend, the X-T10 might be perfect. For rangefinder'ites, the brand new X-Pro2 is a truly fantastic best-of-class camera.
– The Fujinon 60mm f2.4 Macro lens' operation could be improved, but is tack sharp. The upcoming 120mm f 2.8 Macro will certainly be pleaser and I'm anxious to test it soon as possible.
I am seriously pleased with my choice of the Fuji X system for even more reasons than I can list.
Will I sell my Canon dSLR bodies and bag of L-series glass? Yes and No. I'm keeping the 5D3 body and a few L lenses for certain client jobs, certain subjects, macro work and for pairing with my focus stacking software.
In the end, the choice was a common one for many creatives: I just needed to lighten up.
~ dave
---
¡BACK TO CUBA!
I'm returning to Cuba next October with nine photographers & travellers. We're doing it real and seeing a lot. Visit my Workshops page early June to learn how to join us. Till then, email me regarding the Cuba workshop. Here's a gallery of my B&W Cuba shots from two recent trips.
---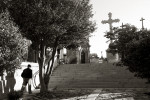 BACK TO PORTUGAL!
Coming up also in September is a workshop in incredible Portugal! Inquire by email or stay tuned…
I'd love to share my knowledge with you.
Just fill in the blanks to subscribe for more travel stories and techniques in Photography, Lightroom and Photoshop.
I occasionally send out "The Viewfinder" e-newsletter, and provide free presets and workshop discounts.
I never over-post, share your info, and you can opt out at any time.