THE PALOUSE is Eastern Washington's most scenic centerpiece, expansive, colorful and rich in historic detail

.
Join pro photographer and instructor David Julian on an adventure to explore and photograph the Palouse's endlessly gorgeous rolling landscapes, barns, agricultural and abandoned vehicles, livestock and wildlife in eastern Washington and Idaho. Over the past five years he's scoured the region to map locations and connect with residents to offer this fully-guided and affordable photography workshop. (We have an advanced Covid-safe trip plan if still needed.)
---
June 11-14, 2021
---
Absolutely stunning scenery.
Many have called The Palouse "the Tuscany of America", and visitors quickly see why. In this location workshop, we capture the vivid colors and long shadows of sunrise and late day, as well as a sunrise and sunset from a high butte. We explore the region shooting aged rural textures, agro machinery, barns, granaries, wizened trees, livestock and serendipity along the way. Dave gives group guidance as well as 1-on-1 guidance and learn shooting snd visual storytelling techniques, even with smartphones. We review images, and Dave demonstrates how he artfully crafts RAW Palouse captures in Lightroom to convey the feel of the original moment.
If you love rural beauty, country charm, and amazing photo opportunities, this workshop is for you. Read on...
Non-photographers are also welcome! If you don't own a camera system, may visitors make excellent photographs in the Palouse using modern smartphones. [ see here ]
---
Dave guides

you

to

capture the very best of the Palouse.
You also benefit from Dave's many hours of scouting, research, planning and also our chance encounters. He has also discovered special locations not on published maps. Our itinerary is flexible as we base our shooting locations on weather, lighting conditions and field growth. There is a huge variety of things to shoot including the beautiful old barns, solitary trees, fields of color, rusty equipment, an old church and graveyard, and other textured country details. We photograph sunrises and sunsets from the best spots high on the Butte. But it's not only about shooting the land. We capture the full Palouse story from an engaging fifth-generation farmer who always delights us with is stories, knowledge and enormous farming machinery!
Instructional topics include:
Visual storytelling : going beyond the postcard

Capturing what you feel in the moment

Seeing, creative composition, subject design and visual layering

Creating dramatic and graphic landscapes

Creative use of depth of field (DOF)

Creating dramatic points of view (DPOV)

Shooting tips for the best results in any light

Field techniques for Dawn, "Blue Hour" and Night

HDR for full dynamic range where light is highly variable (optional)

Timelapse and sky painting (optional)

Tips for expert processing in Lightroom

Expert B&W processing and Toning in DXO


…more as time and weather allows
Enjoy country comforts.
This year we base in Pullman at the spacious Coast Hilltop Inn, where you will enjoy Wifi, indoor pool, gym, free coffee and tea 24/7 and a king or queen sized bed and included continental breakfasts. Optionally, participants may stay at other lodgings or AirBnBs keeping in mind that we begin each day or evening outing from the Hilltop Inn lobby.
---
Safety is a priority.
As long as Covid is active, we will run this workshop using advanced safety practices where necessary. It worked perfectly for us in 2020, and with most participants fully vaccinated by June 1 this year, we can enjoy our days even more. Here's our plan:
Plan A: If there are state-wide Covid rules in place at trip start date, we maintain them. We ask that participants sign a current health statement at the time of our orientation meeting, and that vaccinated participants bring their vaccination card to our orientation meeting June 11. As we now have enough people registered, I will be driving us in a comfortable 12-seat rented van for all our outings during the workshop. Everyone's individual needs can be accommodated if I know of them well in advance. Please email me asap if you have any questions regarding logistics.
Plan B: We have enough vaccinated (or immune) participants to use our rented 12-seat touring van to roam the Palouse with far less environmental impact, dust-making and easier shooting spontaneity when we see something alluring! We will dine together or grab takeout from local restaurants. If we use a van, each participant will be requested to chip in $75-90 (depending on # or people), which has proven so very helpful in recent years and everybody enjoyed the camaraderie and extra opportunities gained by riding in it. This combined fund covers rental and required insurance that I can't build into the workshop price.
---
Transportation:
You will not need your own vehicle during the workshop unless you want to explore on your own during free time. Participants often make arrangements to carpool to Pullman, stopping along the way with spontaneity and arriving on time by 2:30 latest. I can furnish ideas on stops.
• If you choose to camp or reside in a BnB nearby our hotel, contact Dave well before booking so we can release your hotel room.
• Fully-equipped RV camper camping overnight in the Hilltop Inn lot is possible with permission you must obtain in advance and also inform Dave. Note that all trailers and most RVs are prohibited on unpaved agricultural roads. As we travel together, the fewer vehicles, the smoother the workshop!
Those flying into Pullman can easily get to our hotel by shuttle or taxi. If you want to arrive a day or two early or remain there after the worksop, you can call and book your additional hotel nights at our deeply discounted group rate (based on availability) if we are given enough advance notice. Room upgrades to a suite may be available at extra cost if arranged upon registration.
Physical: Participants must be able to get in and out of a multi-seat van without mechanical assistance. This tour is mostly drive-up access or within 50 yards of subjects, and hiking beyond that is optional. Those with severe allergies and adverse response to heat should bring sufficient supplements or medications. We'll have a ZOOM meeting for general info, trip prep, itinerary and other recommendations. You'll get our trip plan and maps when you arrive.
Where and when do we meet? Fully-registered participants first meet online via ZOOM ( May 13 at 7pm ) to discuss the workshop and handle questions. Then, on June 11, we meet promptly at 3:30pm in the Coast Hilltop Inn lobby for a greeting and mandatory orientation. Check-in time is 2:30pm. We leave soon after orientation to grab a meal to-go and head out to shoot! Be fully checked in, rested and ready to explore with us!
---
Join us!
Choose your options for workshop and discounted lodging:
$1345 – Full workshop with no lodging
$1695 – Full workshop with group rate discounted hotel room and continental breakfast.
$95 contribution for shared tour van if workshop fills.
Let me know if you are two persons intent on sharing a room.
Let me know when registering if you are choosing your own lodging in Pullman. If lodging elsewhere, it must be close by because all daily or evening explorations begin at various times from the Coast Hilltop Inn. 
Email Dave with any questions. This workshop will be full so it is advised to reserve ASAP with your Deposit or to save time, pay in Full.
Here is how to get on board:
As of May 11 we have one spot left, but I have advertised that spot so:
1: To join us, contact me Email me to learn if we are Full and how to remit payment at this late date.
2: When using Paypal, if funded by a bank account or Paypal balance, be sure to select "send to Friends and Family" to avoid a transaction charge I'll need to collect from you before you are fully registered.  An alternative is to use Zelle or Venmo. Do not use a Credit Card on Paypal.
4. Total trip balance is due by May 10. Email me if you are not sure of your balances.
NOTE: All participants must sign this downloadable Liability Waiver (link to PDF form) and a simple Health declaration given at the time of our orientation meeting. Please DOWNLOAD, fill out and email this Liability Waiver or bring your completed Liability Waiver to our orientation meeting.  Email me with any questions.
---
What to bring?
We all want to bring whatever we think we might need, but sometimes the more gear, the more decisions while shooting. Also, it's wise to pack compactly for fast and easy load/unloading as we move around. Whatever camera you bring will be fine, so long as you know how to use it. Bring the manual just in case. Mine manual is a searchable PDF on my phone. You don't need to have pro gear or fancy pants.You'll relax and feel your creativity will flow in the Palouse!
During typically warm sunny days: I bring hydration, Bball cap, convertible pants, quick-dry Ts and trail shoes or sneakers. For dawn and night shoots: a windbreaker jacket, warm layer, wind pants, gloves, warm hat, #30 and #50 sunscreen, snack bars, spill-proof insulated coffee mug, non-DEET repellent, bandanas, headlamp or powerful LED flashlight. Though we never wander into private planted fields, plant seeds can stick into laces and socks, so add lightweight gaiters if concerned. It can be muddy after a Spring rain, so extra footwear, waterproof shoes or boots can be helpful but are not required. Your gear should be in a single photo pack, daypacks or similar so we don't confuse 'n lose stuff indoors or out. Vacation luggage will not fit with the gear in our daily van. Renting any gear? Try Lensrentals.com or BorrowLenses.com (use this link to rent with a discount). Get in touch for recommendations and plan to reserve gear ASAP. Label your photo stuff! If you drop it, you want it back. I use this Brother P-Touch label maker to label everything, _even SD cards. Download the offline google Map for the Palouse Region because cell service and GPS is often spotty on the rural roads there. I bring a PowerBank phone charging battery too because the vans usually have one iffy USB port! Bring hand sanitizer and a face mask, preferably two. Sorry, but DRONES cannot be flown while in the Palouse. Locals have requested this so we always set a good example to maintain our welcome. Please put your cares, appointments and work behind you and bring a quest for adventure!_
Here's my 2021 gear list:  Fujifilm  X-T4 and X-T3 bodies. 12mm, 16mm, kit 18-55, 50-140 and 100-400 + 1.4 extender. Sturdy Gitzo CF tripod with RRS ball head and pano plate and L-Bracket for enabling quick switch from horizontals to verticals when mounted. Polarizing and ND plus adapter rings for my lenses. I love Marumi anti-static clear filters for salty or dusty locations. They keep the front lens element clean, dry and safe. I use my lens hoods at all times. I bring a few RainSleeves just in case. Several 64 or 128gb Prograde Gold SD cards batteries and twin charger, a few textured lens cloths and lens coating-safe LensPens. This all fits into a medium-size photo pack. My clothing layers are in a daypack for fast grab 'n go access.
---
**We rent an Enterprise comfortable passenger van to travel in and have your gear on the ready. This preserves the fragile agricultural environment and make daily logistics and spontaneity far easier. The shared cost per person is the van rental total divided by total number of paying participants. This will be notified well in advance of the workshop and is paid in cash, Paypal, Zelle or check when we meet in the Palouse.
---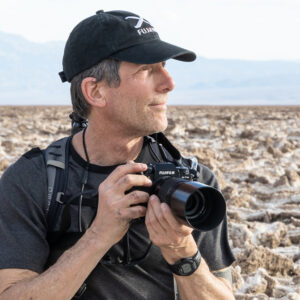 David Julian is a Seattle-based photographer and educator. Between editorial, corporate and entertainment assignments, he teaches photography and creative development. He has led dozens of workshops at Maine Media Workshops, Santa Fe Workshops, Anderson Ranch, Vancouver Photo Workshops, Lepp Institute, Photographic Center Northwest, Luminous Works, School of Visual Arts, and on small-ship adventures. He is adjunct photography faculty at The University of Washington and Seattle Creative Academy. His projects have taken him to Venezuela, Ecuador, Mexico, Costa Rica, Portugal, Italy, the Netherlands, India, Indonesia and Europe. His articles and interviews have appeared in _Nikon World, Outside, National Geographic Traveler, Islands, After Capture, SHOTS, Outdoor __Photographer, SHOTS, Rangefinder, Digital PhotoPro, FujiLove and Digital Photography School. _Check out his photography podcast episodes on Hit The Streets.
He is an official Fujifilm X CREATOR photographer, and shoots exclusively with Fujifilm gear. Ask him why!
Dave also leads annual photo-cultural tours in Cuba and other destinations. **Dave's website. Dave's email.**
---
Cancellation Refunds:
• If we cancel the trip due to unforeseen events, all deposits and balances are 100% refunded and registered participants are automatically prioritized for the next Palouse Workshop. Refunds to a participant who cancels for any reason are as follows:
• Deposit: 100% refunded if you cancel by 5/1, and 50% if you cancel between 5/1 and 5/10. • Balance (due May 10): Trip costs are 100% refunded if you cancel by 5/10; 50% refunded if canceled by between 5/10 and 5/20. Cancellations after 5/20: no refunds possible, but 100% credit will be applied towards any future workshop (- any transaction fees) or a full refund if someone fills your spot within 36 hours.
(updated May 1, 2021)
I'd love to share my knowledge with you.
Just fill in the blanks to subscribe for more travel stories and techniques in Photography, Lightroom and Photoshop.
I occasionally send out "The Viewfinder" e-newsletter, and provide free presets and workshop discounts.
I never over-post, share your info, and you can opt out at any time.